Are you interested in a free washing line?
Environment Estates Officer 14/08/2023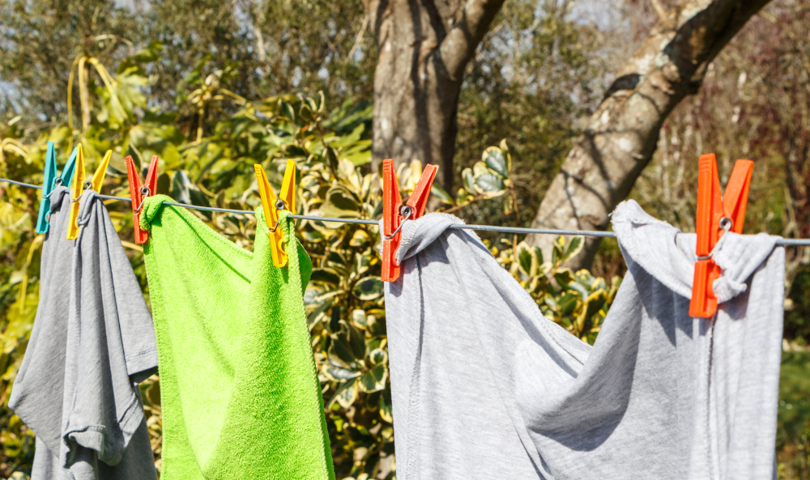 To try and help you save money and be more environmentally friendly, we're giving away free washing lines and pegs to our tenants with private gardens.
There's just something about the smell of washing that's been drying outside in the fresh air - plus you know you haven't had to pay for the energy the tumble dryer uses up!
That's why we're offering free washing lines (either standard lines or rotary washing lines) to our customers, along with a bag of pegs.
Why are we giving away washing lines?
Not only does drying your washing outside give your clothing that lovely, fresh smell but it also means you don't get a build up of moisture inside your home which can lead to damp.
It's also much better for the environment compared to using a tumble dryer which uses a lot of energy per cycle. This also means it costs you a lot when it comes to your energy bills.
All in all, making sure you have the option to dry your clothes outside when the weather is good comes with a whole host of benefits that we want to make sure you can take advantage of.
How do I get one?
If you're a general needs customer, simply fill out the form below and our team will arrange for a washing line to be delivered to you.
Just tell us whether you'd like a standard washing line or a rotary washing line. It's worth noting, rotary washing lines require a hole to be made in the ground deep enough to make sure the line is sturdy and won't blow over in the wind.
Once you've filled out the form, your washing line will be delivered directly to your home address within 14 days.
Please note, availability may be limited based on demand. The item is gifted to you, so you will be responsible for installing, maintaining and repairing the line and pegs.
What if I share my garden with my neighbours?
Please call our Customer Hub on 0345 60 20 540 to arrange an appointment for your Estates Officer to visit and assess your shared space to see if a washing line can be installed.
If you live in one of our schemes, have a chat with the staff in your scheme and they'll see what they can do to help.
If you're a general needs customer, fill out the form below to request a washing line.