Birmingham Pride 2023
01/06/2023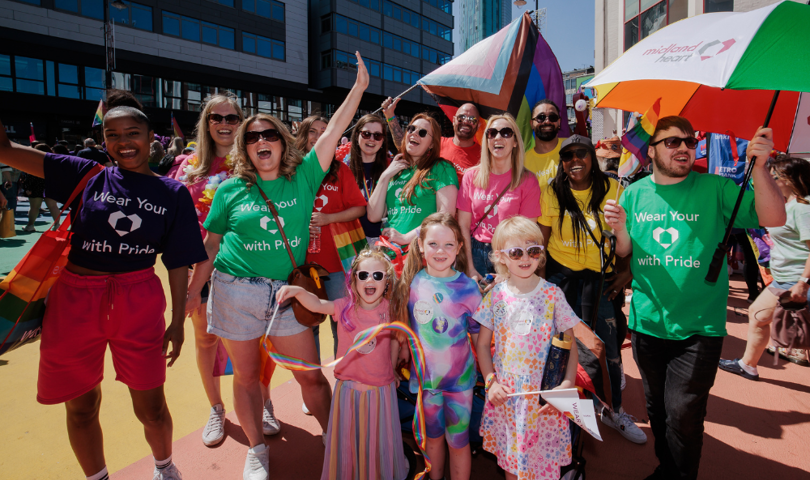 Last Saturday, a group of our colleagues from across Midland Heart took part in the Birmingham Pride parade to celebrate individuality and the achievements of the LGBT+ community.
Over 100,000 people are thought to have taken part in the celebrations over the weekend, with the main event being a parade which wound its way through Birmingham City Centre.
The parade started in Centenary Square, which was bursting with colour, music and energy from all the participants getting ready to march. We made sure everyone had their colourful t-shirts, rainbow umbrellas (luckily not needed this year!) and pride props.
Our group took goody bags full of treats to give out to the crowds. This year, we tried something a little different and our bags included our popular branded Love Heart sweets, as well as genderbread (gingerbread) people with a link to some useful information we were sharing about gender and identity. You can read more about it here.
It was amazing to see the number of people lining the streets to cheer on the parade and show their support.
Pride is a great opportunity for us to show our support for the LGBT+ community. It's really important to us that all of our colleagues and customers feel supported and that they can be their true selves without facing prejudice.
Everyone who took part really enjoyed the event and we're already thinking about next year.
If you're you're up to anything this month to celebrate Pride we'd love to see the photos - so please send them into us via a private message on Facebook or tag @MidHeartHelp in your post on Twitter. You can check out the pics of our colleagues at the Pride parade below!