Diversity in Retirement Living
08/06/2023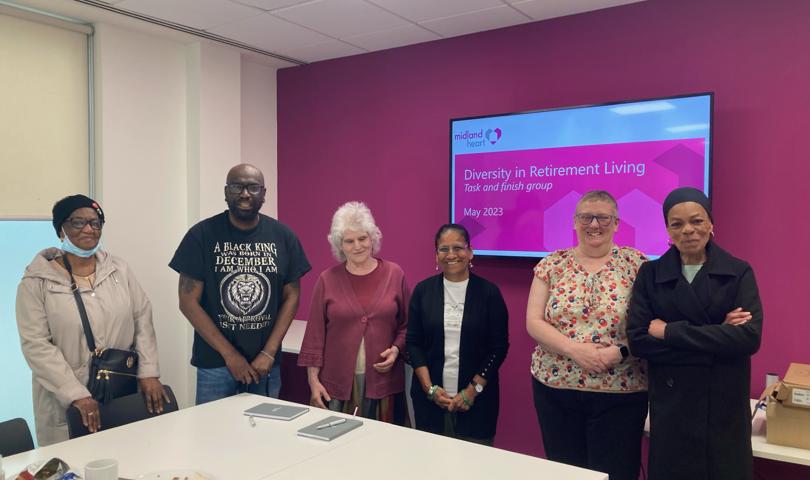 It's really important to us that our residents are safe and comfortable in their homes. Within our Retirement Living schemes, we want everyone to feel like they can be themselves, no matter their background or life experience. That's why we've been working to make sure our schemes are inclusive and welcoming for everyone. 
What have we been doing?
Over the past three years we've been running a diversity project within Retirement Living, using resident feedback and other data to help us create even more inclusive communities.
Here are a few of the changes the project has helped kick-start:
More accurate data – it's crucial we understand our Retirement Living customers so we can provide a fair service and cater to everyone's needs. Since January 2021, we have reduced our missing data, on things like ethnicity and disability, by 95%
Clearer language – some of the words we used to describe our Retirement Living offer previously were misleading, as they suggested our schemes were care homes. We now use 'Retirement Living' and 'Retirement Living Plus' housing
More diverse photos – customers living in our schemes come from all kinds of different backgrounds so we've updated our advertising to reflect this
Inclusive events – our scheme staff have been working hard to expand our catering and lifestyle offers so they embrace and appeal to lots of different cultures
Updated training – we've introduced more mandatory training for all our staff to promote diversity and inclusion
What was the feedback?
To review the success of the project, we recently hosted a diversity focus group at our Birmingham office. Nine Retirement Living residents joined us in-person and via video call to share their views on the improvements they'd seen and any further action they thought we could take.
The group were pleased by the changes we've made and felt they had started to see positive changes, especially around the language we're using and the wide variety of events we run.
In the last month, we've had Coronation parties, a 'curry and chaat' mental health event, a Country and Western social, St George's picnics and Chinese and Italian nights!
The group were also impressed to hear that, in a recent survey, 92% of Retirement Living Plus residents agreed their scheme is inclusive and welcoming.
What more can we do?
The residents asked us to look at doing more to make activities accessible to customers in ill-health.
We also talked about technology. Some of the group told us they don't use the internet because they worry about security, or because they're not sure how to use it. They recommended that we offer more support around digital communication to make sure nobody misses out on anything important.
Thank you!
A big thank you to all residents, colleagues and partners who have been involved in any stage of our diversity project – we couldn't have done it without you. Our work around diversity and inclusion doesn't end here and we'll continue to add to our Retirement Living action plans and ask residents to challenge us to improve.
Our Head of Retirement Living, Rebecca Larkin, said "I'm really pleased with the positive steps we have taken to make our RL schemes somewhere where people can live all together, regardless of their background, and somewhere that appeals to everyone. It's wonderful to see our residents enjoying spending time together and learning about each other's cultures and background. We'll continue to keep to the momentum going to make our schemes more diverse across the board."
If you'd like to give any feedback or get involved in one of our projects, please get in touch with the Customer Scrutiny team at customerscrutiny@midlandheart.org.uk or call 0345 60 20 540.
We welcome anyone who'd like to get their voice heard and offer training and expenses for involved residents.