Investing in our communities: Priory Court
28/02/2023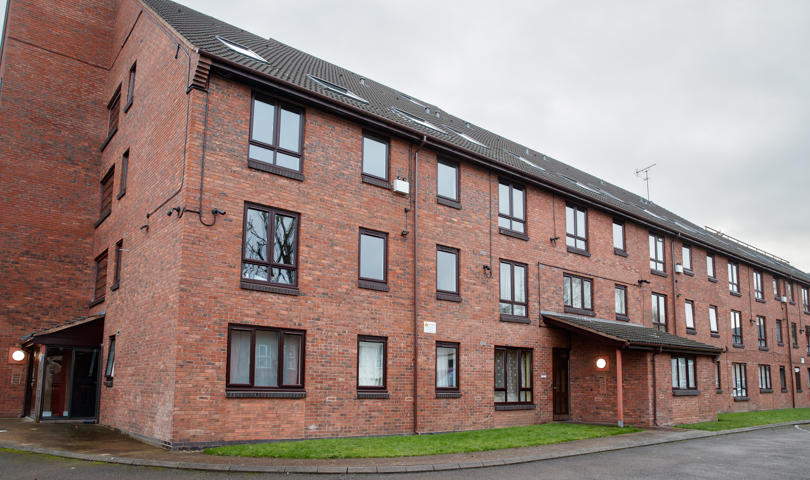 We're constantly making improvements to our homes, to make sure they are happy and safe places for our customers to live. We've been focussing on upgrading the indoor and outdoor communal areas in a lot of our schemes; one of those schemes was Priory Court in Wolverhampton.
Priory Court is a block of 46 flats, which are located in the Whitemore Reans neighbourhood in Wolverhampton; directly opposite Wolverhampton Wanderers Football Club.
What were the issues?
We'd had feedback from our customers living at Priory Court that they were worried about anti-social behaviour in the area around their scheme and that they felt unsafe when going out and about. They also said that fly-tipping was becoming a big problem.
One resident told us, "The communal areas are not great - dirty, dull. Homeless people are staying in the hallway and there is also rubbish spilling out on to the road."
What did we do?
We worked closely with other agencies like the local policing team and the homelessness outreach team to tackle issues in the area. We also held a community day and visited customers in their homes to talk about their tenancy agreements and check they had the support they needed.
Since gaining feedback from our residents in Priory Court, we improved the lighting, upgraded the CCTV and installed new, more secure doors to the main entrance.
We've created a new bin store to reduce littering and fly-tipping and, in some cases, new kitchens, bathrooms and windows were installed to refresh homes.
How has the investment helped?
The changes have made a big difference and had a really positive impact on the Priory Court community and people are now happy to live there.
The feedback gathered from our residents after the works told us that:
89% of customers happy with the look and appearance of Priory Court (40% before)
78% said they would recommend the scheme to others (60% before)
88% said they were happy with safety and security
90% said they felt confident reporting ASB to us
What have our customers said?
After the works were complete, one customer told us "It now feels very secure and comfortable with new windows. It's also been brought up to date with the new bathroom, kitchen and windows."
Another said, "Overall, I'm really satisfied with [Priory Court] as a building and if I have any complaints [Midland Heart] respond to me. They have updated the kitchen and redone the electrics, they have lights that come on as soon as you walk in and the building is well lit up now, which makes you feel much safer."
We also spoken with non-customers from the surrounding neighbourhood, to see what they thought of the improvements. A local PCSO told us, "Priory Court has seen a vast reduction in calls of service to the police. The issues we have had historically appeared to have gone away. Hats off to you for the work you have done to reduce ASB."
Overall we've seen great success with our investment at Priory Court, helping to reduce ASB in the local area and make sure customers feel more secure, and happier, in their homes.