Meet Dave (Fire Risk Assessment Manager)
10/02/2023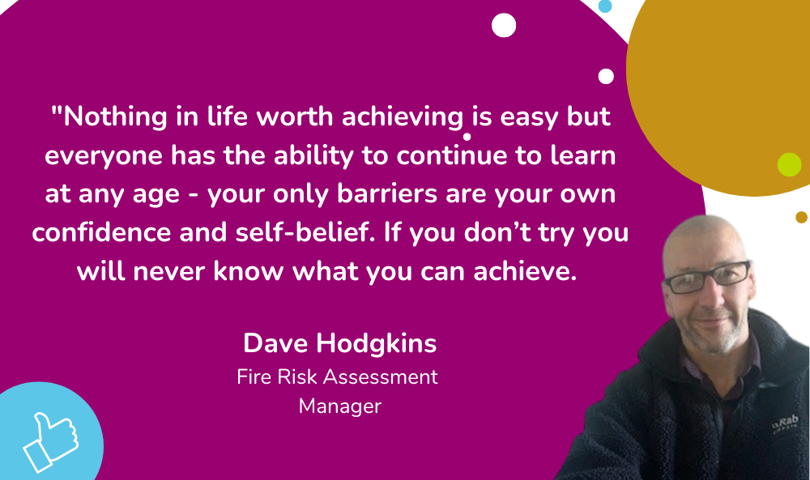 Your safety is one of our top priorities, so it's important for us to make sure that our teams have the most up to date training to help keep your home as safe as possible. 
For National Apprenticeship Week we wanted to show you how our apprentices play a part in keeping our customers safe.
Meet Dave
David (Dave) Hodgkins is our Fire Risk Assessment Manager. He's responsible for managing our specialist team of Fire Risk Assessors and making sure that Fire Risk Assessments (FRA's) are carried out in all our multi-occupied buildings.
Dave and his team carry out an FRA to your buildings before you move in, to make sure that it's as safe as possible in the event of a fire. The team makes sure that your building meets all the fire safety standards to ensure you are safe in your home.
We carry out inspections to all buildings with communal areas, no matter how small that area is. The inspection is carried out everyone 1, 2 or 3 years, depending on the style of building. You can find out more about fire safety in your home here.
A change in career
Dave has worked for Midland Heart for 3 years. Before joining us, he worked for West Midlands Fire Service for over 30 years.
Dave found the Fire Service really rewarding – it gave him a great sense of  achievement and pride. It was here that he first worked with Midland Heart, supporting us with fire issues.
Dave said, "It was in the fire service that I learnt about Midland Heart and their business. I was impressed and pleased to see the positive attitude towards fire safety and the desire to provide safe homes for all.
It wasn't long after I retired from the fire service that I saw the Fire Risk Assessment Manager role advertised and I knew I had the skills to take their present fire safety level even higher. Which, I am proud to say, with the Building Safety Team we have."
Dave's experience of seeing the destruction fire can have on families and homes has helped him educate residents in the dangers of carrying out unsafe practices. For example, bringing to life the difference it makes during a fire if fire doors are properly shut, and not wedged open.
Upskilling our colleagues
We believe that it's important for all our staff to keep refreshing their knowledge and learning new skills, no matter where they are in their career. So we offer various training opportunities for our colleagues, to make sure they are delivering the best service to our customers.
Dave is currently working towards his Fire Engineering Degree Apprenticeship. The course covers a range of topics, including building information modelling (BIM), fire dynamics and health and safety fire law.
This will give him the specialist training to build on the fire engineering knowledge that he already has. It also means that we do not need to solely rely on external contractors as we have our very own specialist in house.
"Everyone has the ability to continue to learn at any age, your only barrier is your own confidence and self-belief. If you don't try you will never know what you can achieve. My apprenticeship has helped build my confidence, strengthened my knowledge and has given me the ability to cascade learning to my team.I've been fully supported at work to complete my apprenticeship and I've been given equipment needed throughout. My boss is also studying for a degree, so I've got his complete support – and sympathy sometimes!"
Become a degree apprentice
Want to work in a job like Dave's where no two days are the same and you can study for your free degree whilst learning?
We're looking for our next Fire Safety Engineering degree apprentice. You'll help Dave and the team to keep our customers safe by ensuring our buildings are compliant.
Learn more and apply here, applications close on February 28th.