Meet Dylan (Customer Scrutiny Officer)
My Voice Scrutiny Team 09/10/2023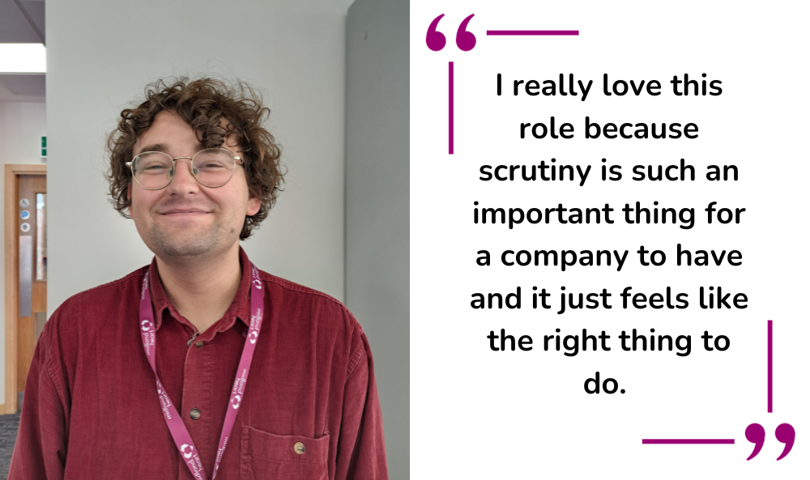 As last week was National Scrutiny Week, we thought it was time to introduce the newest member of our Customer Scrutiny team.
So, meet our Customer Scrutiny Officer, Dylan!
A bit about me…
Hi! I'm Dylan and I'm new to the Customer Scrutiny team. The Scrutiny team are here to make sure your voice is heard, and that you have a say in how Midland Heart develops.
My role is to gather your opinions via surveys and use the feedback to identify trends and create reports. This to helps us to understand what works and what doesn't – and what we need to change going forward.
I really love this role because scrutiny is such an important thing for a company to have and it just feels like the right thing to do. It shows our tenants that their voices are valued and listened to.
For me, it means I know that the work I'm doing utilises real feedback and that what we achieve is actually effective and what our tenants want.
My typical day
It's a hard to say because there is no typical day in the Scrutiny Team!
I'm usually balancing my workload with a variety of meetings and phone calls. I often find myself out knocking doors and speaking with our tenants directly and helping them complete surveys, or I could be in one of our involved tenant meetings discussing how our projects should be shaped.
Recently, I've looked into our aids and adaptations policy to make sure that everyone using the service gets a fair and equal experience. I got to hear a variety of tenant voices and opinions, as well as shadow the Aids and Adaptions team to see what they do on a daily basis. This gave me a much better understanding of this really important service we provide and how it has to fit the tenant's needs.
We need you to get involved!
Successful scrutiny really relies on tenants who want to be involved and make their voices heard. Anyone can get involved and shape the service we deliver through a variety of projects and meetings.
You can get involved in lots of ways which all vary in commitment level and responsibility, so you don't need to throw yourself in at the deep end if you don't have much time!
The My Impact and My Scrutiny groups are the most involved. These groups will meet multiple time a year to discuss recent projects we've been working on and give us feedback. This helps us to shape our projects and make sure they're geared toward what tenants will actually find helpful.
Have less time to commit? 
If the commitment of these groups seems daunting we also run the My Experience groups. They meet less frequently and are typically involved for a certain topic we might be focussing on at that point in time, such as our LGBTQ+ group.
We also have Estate Champions who submit a form once a month telling us about any issues in their local area. Or you can even just sign up to receive surveys from us when they go live. However you would like to be involved, we can make it work - so please get in touch! 
For more information on being an involved tenant and the different ways you can take part in tenant scrutiny, visit our My Voice page.