Meet Sunil (Rent Payment Officer)
14/02/2023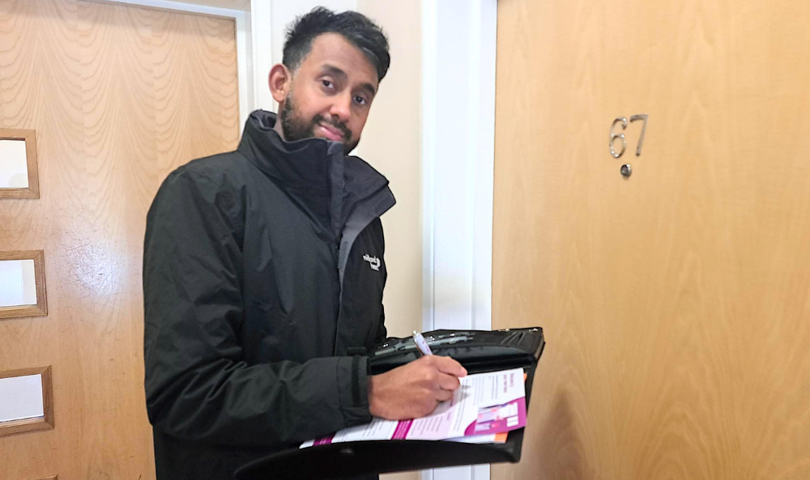 Do you know what your Rent Payment Officer does and how they can support you? We caught up with Sunil to find out more about his day-to-day role and how he helps customers.
Hi Sunil, can you tell us about your time working for Midland Heart?
Hi, I've been working for Midland Heart for three and a half years. I started off as a Customer Service Officer in the Customer Hub. As the first point of contact for customers, I developed a good understanding of what Midland Heart stands for and the things we can do to support customers.
I've worked in a few different roles since then, but in each role my focus has always been our customers. In June 2020 I joined the Income Team as a Dialler Income Officer. In this role I learnt about the different benefits available for customers. This allowed me to support customers who were struggling financially - especially due to the Covid-19 pandemic.
Finally, in October 2021, I became a Rent Payment Officer - and here I am!
What does a typical day look like as a RPO?
Each day I speak to customers and help them to make rent or arrears payments. Every customer is different, so it's important to go through their individual circumstances.
I'll have a chat with them about their employment status, benefits and other members of the household. This helps me to understand their situation and give them the best possible advice to help them pay their rent and keep their tenancy with us. Not every customer can pay their arrears in full. If they're not able to, I'll help them to make a payment or set up an affordable payment plan with them.
Once a week, I carry out viewings to show customers our homes which are ready to let. I also do sign up's which is when customers get the keys to their new home. That moment when you give the keys over is so heart-warming!
What's the most rewarding part of your role?
Every day I speak to customers who are faced with a range of challenges in life. Some are worrying about the cost of living, struggling feed their children, in severe debt or finding it difficult to manage their own finances.
It's rewarding to know that I've eased a customer's worries about their finances, told them about what additional benefits they may be eligible for and helped them organise an affordable payment plan which allows them to maintain their tenancy. By supporting them to maximise their income they end up with extra money to spend on essentials such as food and warmth.
What do you find most challenging?
It has to be the psychology of debt. Debt creates so many negative feelings – it can make customers feel like they're not able to manage their finances. It consistently weighs on their mind and creates feelings of anger, sadness and disappointment.
When I first engage with a customer who is in arrears, all of these feelings tend to come out and can sometimes very difficult to get past. Most of my job involves breaking down these barriers by being calm, understanding and empathetic.
When customers realise that you honestly want to help them, they begin to work with you. That's when you can really make a difference to them – and then the most challenging part of the job slowly becomes the most rewarding part of the job!
If a customer is struggling to pay their rent or is in arrears, what would you advise?
To simply reach out to your Rent Payment Officer as a first step. We can only support you if you get in touch with us!
Some customers try to avoid us as they think that we're going to tell them off or take further action. But it's really important for us to have a conversation, so that we can understand your circumstances. That way we can create a plan that works best for you. We can also refer you to services such as our Money Advice Team, who can assist with extra financial advice and support if you need it.
All in all, your Rent Payment Officer is there to figure out exactly why you're in arrears so that they can best assist you moving forward – so reach out to them and see how they can help you.
If you are struggling to pay your rent please call our income team on 0345 60 20 540. Click here to view advice and factsheets on how you can manage your money better.