Supporting World Clean Up Day
Sustainability Fly-tipping Environment Recycling 25/09/2023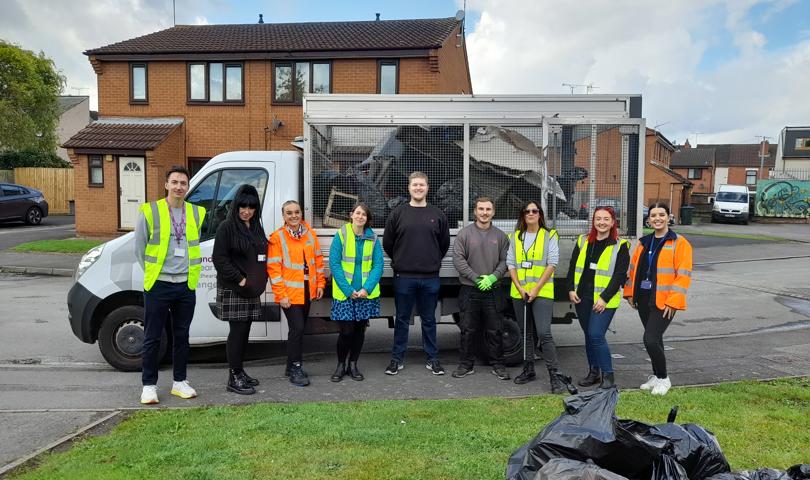 To mark World Clean Up day on Saturday 16th September, last week we hosted clean up days at two locations in our communities across the Midlands.
World Clean Up Day encourages us to raise awareness of global waste issues by cleaning up our local environments. So we decided to take up the challenge by cleaning up a few of our communities and raising awareness about how to properly dispose of household waste.
Our clean up days
We organised our clean up events along Oldfield Road in Birmingham and Harnall Lane in Coventry. These two areas were chosen because they both have a history of fly-tipping and issues with litter being left on the streets.
Teams from across the business, led by our Rangers and Estates Officers, attended the events to join in with the litter picking and to help remove any larger items that had been left in the area as a result of fly-tipping.
We also had Rent Payment Officers on hand to answer any queries about rent or money management, as well as colleagues from our sustainability-focused teams to help advise customers on how best to reduce and manage their household waste.
A community effort
In Birmingham, the children and teachers from St. Paul's Community Development Trust joined in our clean up to help us with the litter pick. We even helped them run a competition to see who could collect the biggest bag of rubbish and the competition was fierce!
Over in Coventry, we were also joined by our partners at Severn Trent Water to talk to customers about their lead pipe replacement programme in the area and advise them on how to manage their water usage and help lower their bills.
Why do we need to tackle waste in the community?
Last year, we responded to over 6000 incidents of fly-tipping or illegal waste dumping in our communities. Cleaning up this waste costs us and our tenants over £100,000 each year, which not only takes up the time of our Rangers when they could be doing other important things in your community, but also leads to an increase in service charges.
To find out more about reducing your waste, recycling and protecting your local environment take a look at our webpages.