Top tips for reducing your waste
In the UK, we send over 15 million tonnes of rubbish from our homes to landfill every year. Take a look at these tips to see if there's anything you can do to help:
Use your kerbside or scheme recycling (usually run by your district or borough council).
Use your local household waste recycling centre which will accept bulky items – for more tips on bulky waste items click here
If you can afford to pay a bit more for better quality electrical items you may find they last longer and are more energy-efficient
Your local charity shop may take clothes, books and bric-a-brac. Some charities provide envelopes for the return of ink cartridges, mp3 players and phones
Avoid signing up to junk mail or postal magazines – this could also save you the cost of monthly subscriptions
Sell items you no longer need on sites like eBay, Depop, Vinted, Facebook marketplace or through the local newspaper. You can pass on unwanted items for free at some websites
Why not try washable nappies, wipes or sanitary items. They can save you lots of money and help the environment too
Reuse plastic containers and bags to store and carry items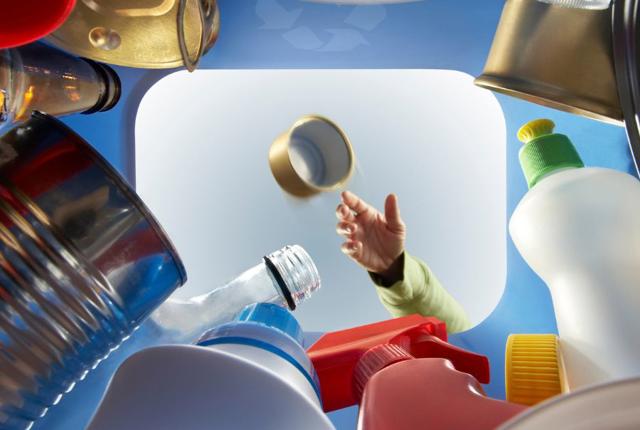 Myth busting
Recycling uses more energy than it saves - NOT TRUE
Up to 95% less energy is needed to make products using recycled materials. Your recycling helps to save valuable resources and protect the environment for our future.
Tackling food waste
Around a fifth of all the food we buy ends up in the bin when most of it could have been eaten. Wasting food costs an average household around £480 a year, for families with children it rises to £680 a year.
Unless we have a composting facility or kerbside collection, most of our food waste ends up in our general waste bin. Use our top tips to reduce your food waste and save money:
Buy loose fruit and vegetables instead of pre-packed. That way you'll only pick up the amount you need and it cuts down on packaging waste too
Freeze foods before they pass the use-by date and freeze leftover extra portions for quick and easy meals later on
Plan in advance and make a list or meal plan for the week ahead. Your shopping trip will be easier and you're more likely to only buy what you need saving you money in the long run
Use what you have left over in your cupboards, fridge and freezer
Always follow the 'Use-by' date but check if food can be frozen before this date to eat later. 'Best before' is for quality rather than showing when food will go off. 'Sell by' and 'Display until' are for shop use only
Cook from the cupboard – with canned and dried foods in the cupboard and some fridge and freezer basics, you can pull together a quick meal to make the most of any leftovers.