Extending our online repairs to Coventry
12/05/2023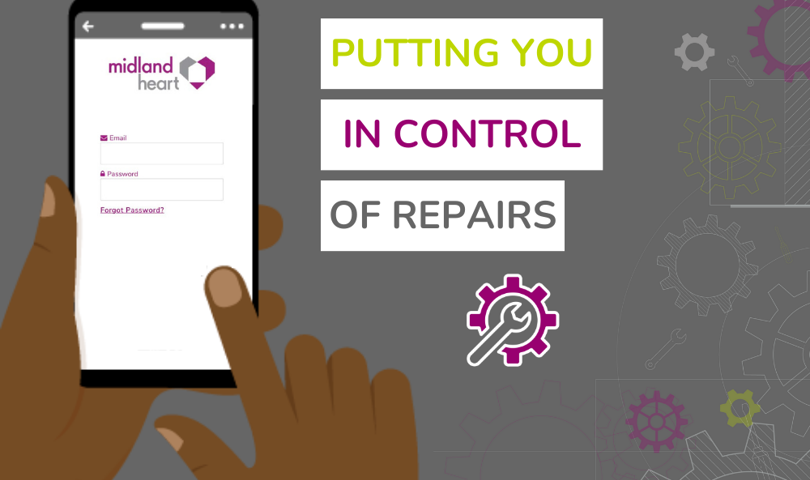 Last month, we rolled out our new repairs app feature across Wolverhampton and now we're pleased to extend the feature even further to Coventry.
Reporting your repairs online
The new repairs feature on our Midland Heart app lets you report your repairs directly to us via the app, and book and change repairs appointments whenever you need to.
The app is quick and easy to download from the Apple or Google store, find out more here.
Test it out
We want to make sure our new repairs feature is as user-friendly as possible, so if you have a CV or WV postcode we're encouraging you to report your repairs through the app and test the feature for us over the next few weeks.
It makes booking and managing your repairs so much more convenient and, if you're brand new to the app, you can also use it to manage your rent account, make payments and update your personal details.
Give us your feedback
If you're part of the pilot we'd really like to find out what you think about the repairs feature on the app once you've started using it. So, we've put together a short survey so that you can share your views with us.
You can find the survey online and we'll use your feedback to make the app even better.
Access for all customers
Once we've completed testing the new feature we're planning to roll this out to all Midland Heart customers later in the year.
Please note, you won't be able to report emergency repairs on the app. Instead, you'll need to give us a call on 0345 60 20 540 so that we can make sure your issue is dealt with quickly.
You can find out more about reporting repairs and what repairs are your responsibility, here.