Coventry Foyer residents get new kitchens and care packages
13/12/2021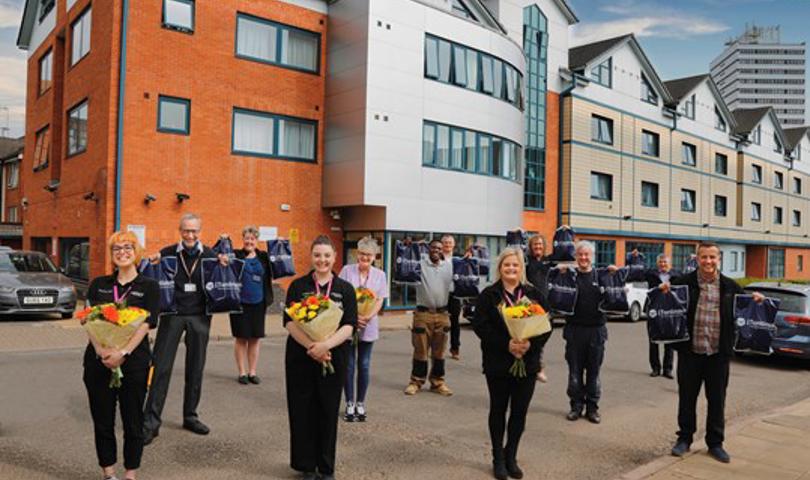 Residents at one of our supported housing scheme's in Coventry have received new kitchen facilities and living essentials thanks to J Tomlinson and partners.
The company has gifted residents with personalised goodie bags following work to upgrade their private kitchens.
The Coventry Foyer provides temporary accommodation and housing-related support to enable young people aged between 18 and 24  to move towards independent living.
Working safely during lockdown
The renewal project meant that over 60 occupied flats were updated during the second national lockdown.
Works included replacing the original kitchen units, electrical re-wiring, flooring works and redecorating.
During the seven-week project, J Tomlinson worked closely with scheme staff and residents to keep in line with government guidelines and make sure everyone was safe.
Working together to support customers
The company were moved by some of our customers experiences. They decided to team up with their supply chain partners to create personalised goodie bags for them.
The bags contained cleaning and hygiene essentials including shower and dental care projects.
Residents, contractors and scheme staff all took part in a socially distanced photoshoot as the care packages were presented.
Investing in our homes
Coventry Foyer's scheme manager, Lucy Downing said "Investing in our homes is our number one priority and sits at the centre of everything we do. It's thanks to partners like J Tomlinson that we're able to carry out these improvements, even during these challenging times."
"Everyone working on site from J Tomlinson was cheerful, respectful and really accommodating and more importantly our customers felt safe."
"Nothing was too much trouble for the team, they went above and beyond to ensure everything went to plan. Their generous donations to our customers were very much appreciated"
Happy customers
Ant Newton, managing director (regeneration) at J Tomlinson, commented: "We're really pleased to know that customers and staff at the Coventry Foyer are happy with their upgraded independent living areas"
"This marks the latest high-quality scheme we've successfully handed over in partnership with our long-term client, Midland Heart. A special thank you to all occupants for their understanding, co-operation and kindness during the project - we hope that the items donated will help the young people living at Coventry Foyer in their journey to independent living."