I'm dreaming of a GREEN Christmas
12/12/2021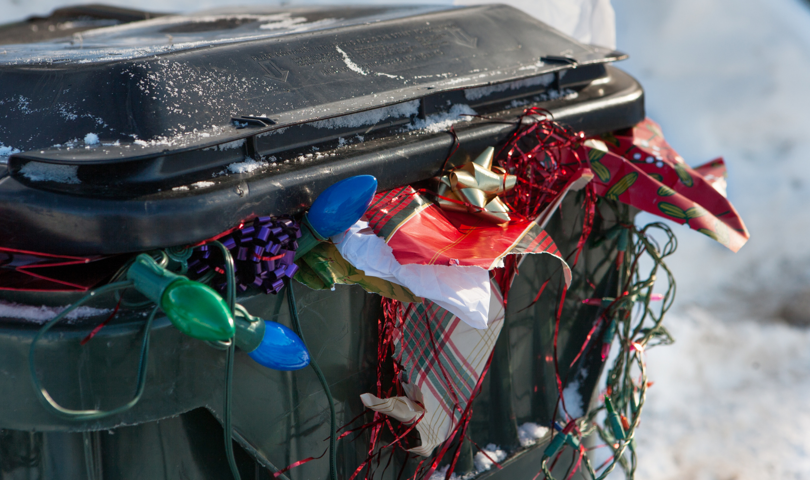 Christmas is a time when we all like to indulge and as a result many of us end up with a lot more waste than usual. It can be difficult to work out what to do with it and if your bins are overflowing the council may not collect them.
It's important that we all do our bit to reduce waste and help the planet. So our rangers have put together a useful guide to help you to reduce waste and get rid of the rest responsibly. 
Tip 1: Reduce
Be realistic about how much food you need and save any left overs for the next day. Try using Tupperware or wax cloth covers instead of cling film to avoid sending unnecessary plastic to landfill.
Gifts bought from large companies or online often come with lots of extra packaging. Shop locally or make your own personalised presents - don't forget to bring your reusable shopping bags with you.
Tip 2: Reuse
Remove any ribbons and bows from your gifts and reuse them. You can also reuse gift bags (just remember to remove the name tag!) Not only will this reduce waste it will save you from buying them next year!
Cut your cards up and turn them into gift tags perfect for replacing the ones from your gift bags. Padded envelopes and bubble wrap can't be recycled but they can be reused.
Tip 3: Recycle
Recycle items such as cardboard, soft plastic, glass jars and tins. Make sure cardboard and paper isn't wet or greasy when you put it in your recycling bin. If it's too big to fit, tear it into smaller pieces so your bin lid can be closed.
Try to avoid buying plastic or foil backed paper or paper that is glittery as it can't be recycled. If you're unsure if do the 'scrunch test'. If it stays scrunched you can recycle it, if it springs open then it can't be recycled.
Don't throw away your real Christmas tree check your local authority's website to find out how to recycle it.
If you put general waste or things that can't be recycled in to your recycling bin the council may not empty it. 
Click here to find out what you can be recycled.
Tip 4: Electrical waste
Take electrical items to your local Household Waste Recycling Site (the tip) or see if your council offers a mobile household recycling service. Click here to find your local council.
Most large shops and supermarkets have battery recycling points.
Tip 5: Food waste
If you've got a composter you can put food waste, flowers, eggshells, tea bags and coffee grounds in it. Natural materials on wreaths such as holly, fir cones, mistletoe and ivy can also be composted as long as they aren't covered in glitter.
Tip 6: Bulky waste
If your furniture or appliances can't be rehomed you can take them to the tip or arrange a bulky waste collection with your local council.
Don't dump it, this is called fly-tipping. Fly-tipping is illegal and you can be fined for it. If you fly-tip on our property we can charge you the cost of removing it.
Tip 7: Charities
Out with the old, in with the new. Whether you've been gifted a new pair of jeans or if you've been lucky enough to have received a new sofa, you should consider donating your old clothing / furniture to a local charity.
If your clothing is not in good enough condition to donate see if there is a local clothing bank that will accept them. Some retailers even offer vouchers for your old clothes!
Unwanted decorations that are in good condition can also be donated to charity shops.
 Click here for tips on how you can save energy in your home.