My dear new friend…
13/12/2021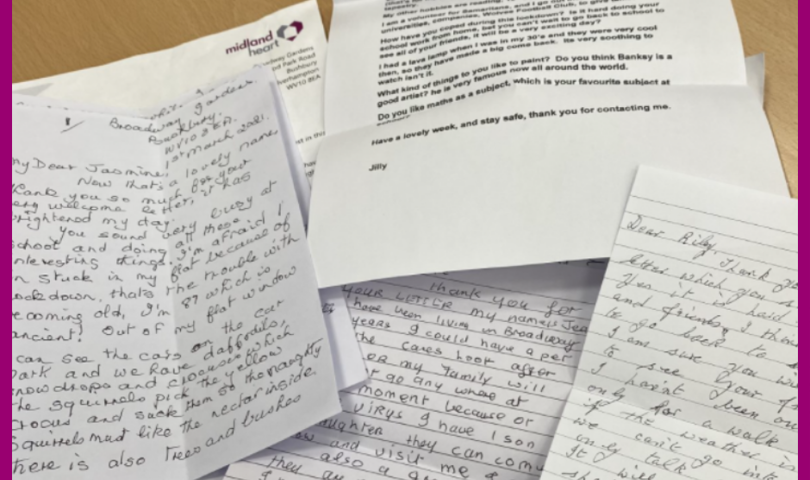 Letters from local school children in Wolverhampton have been gratefully received by residents in one of our retirement living schemes.
Pupils from nearby Elston Hall Primary started writing to our residents at Broadway Gardens as part of the National Literacy Trust's 'My Dear New Friend' scheme, which was set up to increase children's motivation to write and help combat loneliness among older adults.
When the letters appeared on Laura Brownlie's desk, she handed them out to residents who she thought would enjoy reading them the most and would want to reply back to the school children.
Laura Brownlie, Lifestyle Coach at Broadway Gardens, said: "It was a lovely surprise to find the letters on my desk one morning! The residents really loved getting the letters it was a great boost for them which is really needed in these difficult times. I've had several of them tell me that it was a lovely surprise and a handful have already written back to their new pen-pals."
In total, residents received 11 letters from the Year 6 class at Elston Hall Primary and many returned the favour.
Rosie Tromans, Assistant Head teacher at Elston Hall Primary School said, "As part of our remote learning in English, the children were learning to write letters. We thought it would be a lovely idea to write letters to residents in local Retirement Living schemes to brighten up their day during this difficult lockdown period.
"We did not expect the heart-warming replies we have received from the residents. We shared all the letters with Year 6, who were fascinated by them and their stories. The children were then able to take their letter home. A simple letter brought so much joy to the children, so we thank the residents for their time."