My Story: Hayley Blow
13/12/2021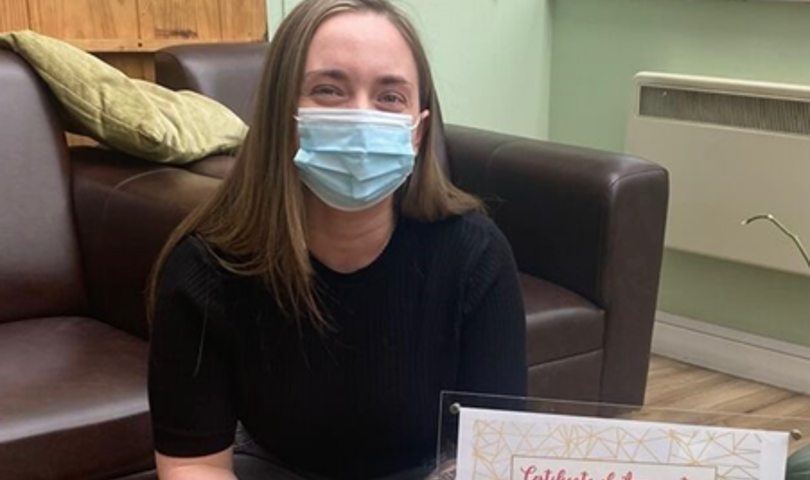 When Hayley first moved into High Street South (one of our Supported Living properties in Rushden) she felt lost and alone. But thanks to the support of our hard-working team, Hayley is now thriving and living independently.
This is Hayley's story, in her own words...
Overcoming challenges
Back in 2017, I found myself in a position where I was technically homeless but thankfully, I was offered a place at High Street South.
I was initially very nervous, as I'm sure many who move into supported accommodation are.
You never plan to live somewhere like this, it just happens due to circumstances out of your control.
I was 22-years-old and had never lived on my own before.
I had previously completed two years at university but I suspended my studies just before moving into High Street South.
I didn't see any way of being able to return in my current situation, but this is where Midland Heart made a real difference.
Feeling supported
High Street South helped me in so many ways, whether it was having someone to talk to or help in addressing the more stressful situations at hand.
I can honestly say I wouldn't be where I am today or achieved the things I have if it wasn't for the staff here. Their constant support and encouragement has made such a difference to my life.
Before moving into High Street South, I felt lost and alone. But in a short amount of time, I had found myself, decided who I wanted to be, where I wanted to go and I had help in taking the steps I needed to get there.
Going back to uni
One of my biggest achievements was returning to university. My support worker really encouraged me to complete my final year, as well as supporting me to sort all the relevant paperwork and benefits. I'm so grateful for their encouragement and for having belief in me when I didn't have it in myself.
I'm pleased to say that I've now finished university with a first-class degree in Multimedia Journalism, having been awarded A's in all my assignments and exams and also presented an award for 'Best Magazine'.
Giving back
When I finished university, I had some free time so I decided to create a monthly magazine for High Street South customers.
I included positive poems, local services which could be useful, information on how to bid for a property, bus timetables, move-on advice, stories from customers who had overcome challenging times, and more.
I try to come up with different ideas every month. If there are customers struggling with a particular issue, then I will try and include something that could help them.
Supporting other customers
I think many people who live at High Street South struggle with their mental health at some point, so I try to include information that could help them such as self-help advice, information on managing their finances, and apps they can download to help monitor and track their mental wellbeing.
Each issue also has pages which are included every month, such as the events page, free helplines or who to call if there's an emergency. There's also a blank calendar of the month included, to help customers keep track of any personal appointments, support meetings or events.
Customers living in supported living are not always the most confident when it comes to cooking and cleaning, so I also like to include recipes which are easy on the wallet and quick to make, whilst fulfilling nutritional needs.
Putting a smile on their faces
Sometimes life can feel gloomy. Not every day is going to be shining bright but there are little things which can make it shine that bit brighter.
I like to make people laugh so every issue has an array of jokes, whether these are for the customers own enjoyment or they can be used to tell others as a conversation starter. A little joy can go a long way.
The newsletter led me to volunteering on a regular basis for the scheme, including chairing activities meetings and having conversations with customers.
I wanted to volunteer for many reasons, as I think I can relate to the customers and it's a really lovely feeling knowing that I can give back even just a small amount to a place which has personally helped me so much.
Looking forward
Volunteering has also opened my eyes to what I would like to do in the future. Although I've got my degree in multimedia journalism, I feel a position as a support worker would be very rewarding.
I know how much my support workers helped me and so to have the opportunity to help others and see them turn their lives around doesn't compare to anything else.
I love High Street South. I love everything it stands for and how it helps people, so to have the opportunity to use my skills and help others has been very fulfilling.
 Supported Living
Click here if you would like to find out more about our supported living properties.