National Scrutiny Week
13/12/2021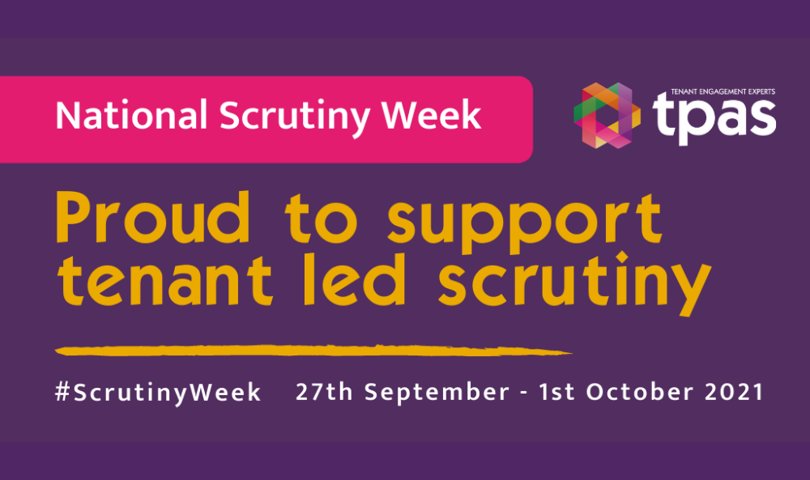 We take customer scrutiny very seriously and have a dedicated team who work closely with our involved customers and make sure we do what we say we will.
We can see why the term 'customer scrutiny' may cause you to shudder - But don't panic. We're the one's who will be under the microscope... and rightly so!
What is customer scrutiny?
We want to make sure that the services that we offer work for you. We believe that the best way for us to do this is to listen to your feedback. We'll then look at what you've said works well and what you've told us can be better before making any changes.
Our customer Scrutiny team offer training and support, so that our involved customers can hold us to account through a range of activities.
What are these activities?
Our customer involvement programme 'My Voice' has 5 key categories. Each category has a selection of activities that you can choose to get involved in based upon your interests and availability for example the Customer Scrutiny Panel.
Has customer scrutiny led to improvements?
Over the past three years our Customer Scrutiny team have used over 50,000 pieces of your feedback to make recommendations and improvements. As a direct result:
We're developing our app so you can do more - this will include a pilot so you can report repairs on it.
Our grounds maintenance contractors now visit every two weeks in the summer - they also take photos of the work they've done so we can reply to any queries quicker.
We've improved our catering service - customer satisfaction has gone from less than 70% to almost 90%!
We've changed our aids and adaptations approvals process so you'll get a decision sooner and work can be completed faster
Getting it right
Last year our Customer Scrutiny Panel surveyed over 200 customers and reviewed over 2,500 complaints to understand how we could improve our services following a complaint.
We know that we don't always get it right but we're committed to learning from the instances where we don't. The customer panel felt reassured that we use the feedback you've given to us when you make a complaint.
How can I get involved?
We want as many customers as possible to have their voice heard. The more feedback we get, the better your services become. 
Have a look at the Get Involved  page on our website to find out more or contact our Customer Scrutiny Team directly.
Video call us on Microsoft Teams: Click here to join. (The first Wednesday of every month between 3pm-4pm)
Text us on: 07771 676 773 
Email us at: Customerscrutiny@midlandheart.org.uk