Bluebell Court Opening
23/05/2022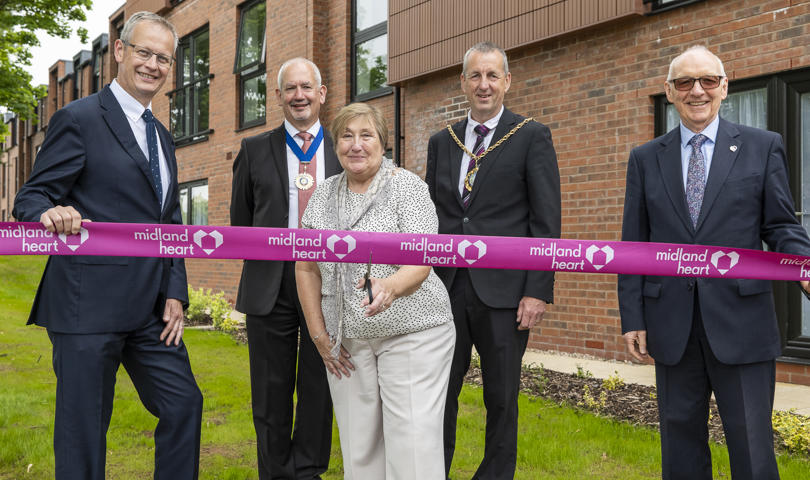 We've officially opened our brand new Retirement Living Scheme Bluebell Court. On 20th May we opened the doors and were joined by guests from Lichfield District and City Council and of course our new residents.
Our CEO Glenn Harris and Sharon Alexis Wilson Director of Retirement Living were also in attendance. Rebecca Larkin head of Retiremnet Living gave guided tours to showcase everything the scheme has to offer. 
'It's great to be here outside Bluebell Court today for the official opening of this fantastic new scheme. This is a really exciting scheme for our residents now they have all moved in. We've been here today with the mayor and local dignitaries to showcase the hard work that has gone into Bluebell. This is the blueprint for future Retirement Living schemes for Midland Heart, bringing modern efficient living to city centre locations'- Glenn Harris, CEO.
Bluebell Court is a purpose-built scheme, perfectly set adjacent to heritage buildings on the corner of Rotten Row and Deans Croft. The new scheme has been thoughtfully designed to complement its historic surrounds. Residents will enjoy views of Lichfield and the cathedral from their homes and the scheme's roof garden. We worked in partnership with Lichfield District Council to make sure local people were prioritised for these homes and were able to get access to the one and two-bedroom level-access apartments.
 'As a business this scheme is something we are really proud of, we've been working with our planners, the local authority, and our development team to put together the most state-of-the-art Retirement Living building that we've put together in the last 8 years and it's something that were really proud of.'- Sharon Alexis-Wilson – Director of Retirement Living
We were so overwhelmed by the interest people had within Bluebell Court and all 30 apartments were allocated before completion.
 'The apartments when we first viewed them were great, I was expecting a basic look and feel but they really have a great personality to them. I have a ground floor apartment and I have a great view of the Cathedral from my lounge and bedroom window. The location is perfect, it's something they need more of in this area, more affordable homes. I love having Lichfield City Centre on my doorstep and the freedom that comes with living here, you can mingle with other residents or just go off on your own.'- Carol Giblin resident at Bluebell Court
Throughout this whole project we've kept our customers and their needs at the heart of Bluebell Court. We aim to provide affordable retirement living homes without compromising on quality and comfort of our residents.
Unveiling of Bluebell Court
Watch this video for a sneak peak of what happened during the opening ceremony.