Dates for your diary this December
15/12/2022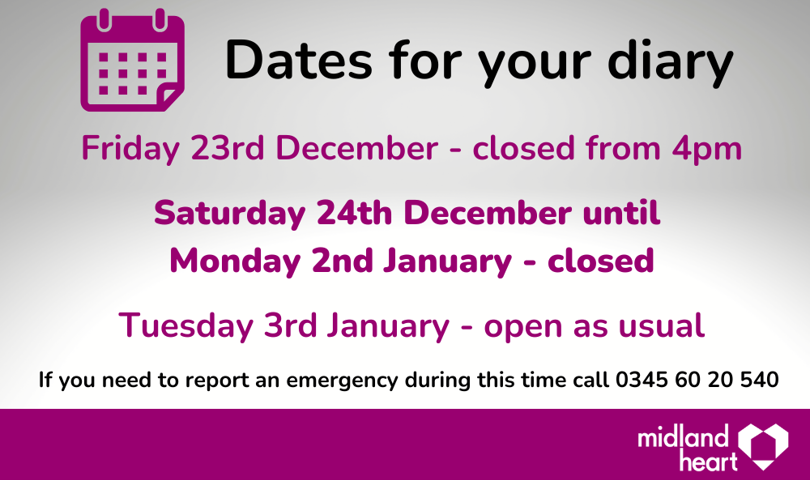 Our Customer Hub and offices will be closing for Christmas on Friday 23rd December 2022 at 4pm and will reopen on Tuesday 3rd January 2023.
How will this affect me?
While our Customer Hub is closed you won't be able to contact us about things like repairs or your rent account. However, you can still report emergencies to our out of hours service.
An emergency is something that causes an immediate health, safety or security risk to you or anyone else. An emergency is also something that is causing a lot of damage to your home. 
Examples of emergencies:
An external door which won't lock
An uncontainable water leak
Having no power
Exposed electrical wires, or water coming into contact with sockets or wiring
How and when can I report emergencies?
You can report emergencies anytime of the day or night, including on bank holidays like Christmas Day.
Please report all emergency repairs to us on 0345 60 20 540.
You can find other emergency contact details here.
What if I have a non-urgent repair or query?
If you need help with a standard repair or have a question, you can give us a call when we're open again on Tuesday 3rd January.
What if I need to pay my rent?
You'll still be able to use our customer app to:
Make payments
Check your balance
View your payment history
Download rent statements and proof of rent
Update your personal details
Ask for money advice
How do I download the app? 
You can click here to download the app. If you're experiencing any issues downloading or using the app view our FAQ's and troubleshooting guide.