'Green Fingers' gardening club
10/10/2022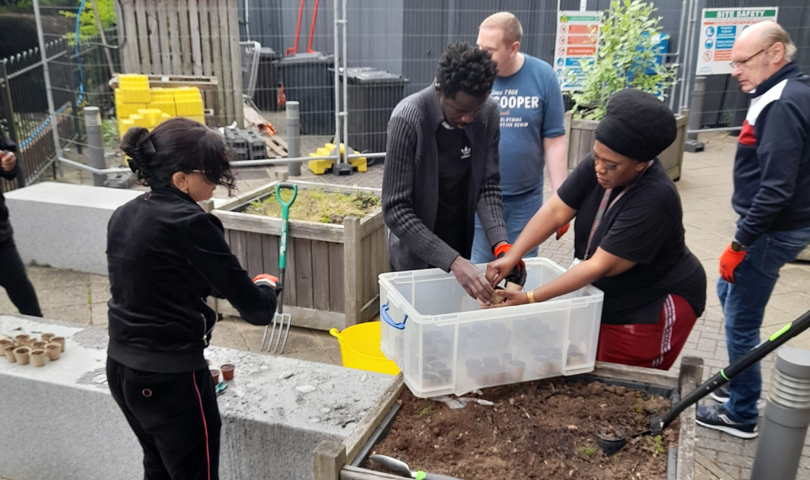 Today is World Mental Health Day, an annual campaign organised by World Health Organisation to make sure that mental and physical health are treated equally.
It's also a chance for us to talk about mental health in general and raise awareness about ways to look after it and how to get help if you're struggling.
Out in the open
Colleagues at The Snowhill, one of our Supported Living schemes, took inspiration from previous Mental Health Awareness Week themes nature and loneliness and formed a gardening club to bring residents together.
Tryfine and Jade, who are both Independent Living Officers set up the club with the aim of boosting residents mental wellbeing. When they noticed that plants in the scheme's raised garden tubs were wilting, they encouraged the residents to set up a nursery in the onsite greenhouse.

A blooming success
As soon as the plants were big enough, they planted them into the tubs and worked together to make sure the plants bloomed. Together they have grown peas, broad beans, tomatoes, radishes, lettuces, and herbs which were shared with other residents living in the scheme.
Tryfine said: "We've had a great response so far, with customers saying how proud they are to see their seeds grow into food they can eat. They've told us how relaxing they've found it, and how gardening has boosted their mood, reduced stress, and promoted physical and mental wellbeing."
Get support
If you're struggling with your mental health it's important to talk to someone. There are a range of free support services that you can access via text, webchat, over the phone and in person. Click here for more information.