Meet John (Involved Customer)
06/10/2022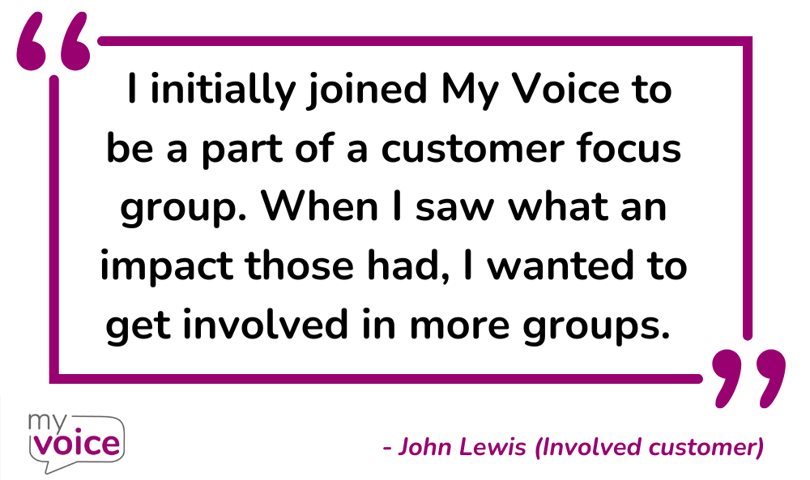 My name is John Lewis, I do not work for Midland Heart, but I am a customer/tenant who works with them to improve their services.
I initially joined My Voice to be a part of a customer focus group. When I saw what an impact those had, I wanted to get involved in more groups. The groups I'm currently involved in are My Scrutiny, Digital Access, LGBTQ+ and Equality and Diversity.
What is My Scrutiny?
The My Scrutiny group take a deep dive into any area where Midland Heart wants to see dramatic improvement. Together, our group makes recommendations on how they can make changes to improve things.
One of our previous projects involved looking at the complaints procedure and how Midland Heart deals with things when they go wrong. To do this, we needed to look at a lot of information. We asked for the how, what, where, when and why. Midland Heart showed us everything they could and we used these details and our own experiences to make recommendations about how the complaints procedure could be improved.
Patience is key
The My Scrutiny group know that large change takes time. Obviously, there are some things that can be changed with a simple conversation. Telling Midland Heart about your concerns should only take one conversation to arrange a solution. However, changing the policies to improve things for everyone takes longer.
Time to find out that a policy is causing complaints. Time to ask us on My Scrutiny, what changes customers would like to see. Time to look at the benefits and drawbacks of any change. Time to make sure the change doesn't impact one group of people more than others. Time to train the staff into following the new policy and more time for that change to be seen by customers.
Holding Midland Heart to account
We're currently looking at project about how customers can hold Midland Heart to account. This will support the work we have already done. We will look at all the information they give to customers, not just facts and figures but policies too. This will allow us to make sure that the information you want is accessible and transparent and you'll have access to it when you need it.
You can get involved too
There's always room for people from every background to get involved and help give our work a more rounded point of view. Click here to find out more about getting involved.
If you'd rather provide feedback by answering surveys please email customerscrutiny@midlandheart.org.uk and let them know who you are and how you'd like to help.