Meet the Ombudsman
12/09/2022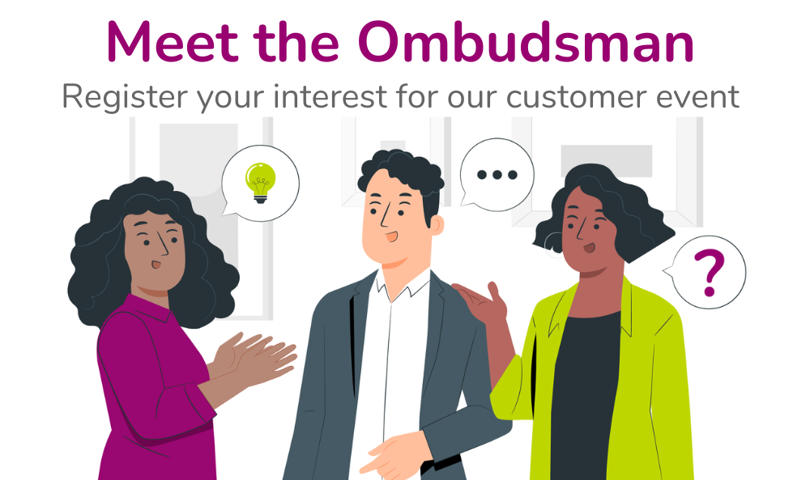 We're hosting an exclusive event at our office in Birmingham so that our customers can have a chat with the Housing Ombudsman and find out more about the service they offer.
Who are the Housing Ombudsman? 
The Housing Ombudsman are an organisation that was set up by law to look at complaints about registered housing providers, including housing associations and local authorities. They work with both customers and providers to resolve complaints.
The service is free, independent and impartial and available to anyone who has an issue or dispute that they wish to raise about their provider.
What should I expect on the day?
The event is on Monday 10th October 2022. We want you to feel comfortable on the day so that you can get the most out of the event. It'll be a really informal and relaxed atmosphere so there's no need to dress up.
The Ombudsman will introduce themselves and tell you a little about the service they offer. You'll then get the chance to ask them any questions you have about the service.
What kind of questions can I ask?
You can ask the Ombudsman anything about the service they offer or general questions about the complaints process for example:
When can I contact the Ombudsman about an issue with my landlord? 
What does the Ombudsman expect of landlords when dealing with complaints from their residents?
What can the Ombudsman do to prevent the same issues happening again?
Can I discuss my personal complaint at the event?
The Ombudsman won't be able to discuss your complaint or give you any personal advice or guidance during the event. You can still attend if you have an open complaint that we or the ombudsman are looking into.
If you do have an ongoing complaint and would like an update please contact your Customer Experience Officer. If you would like to log a new complaint or read our complaints Policy you can visit our complaints page.
How do I register my interest?
Fill out the form at the bottom of this page to let us know you'd like to attend. Please note we have a limited amount of spaces so we can't guarantee that you'll get a place. The last date that you can register your interest is Friday 30th September 2022.
How can I help to improve my services?
If you'd like to help us to make improvements you can Join My Voice. As an involved customer you'll work closely with our Customer Scrutiny Team to review the services we offer and make recommendations for how we can make them even better. Click here to read our FAQ's.