National Scrutiny Week
03/10/2022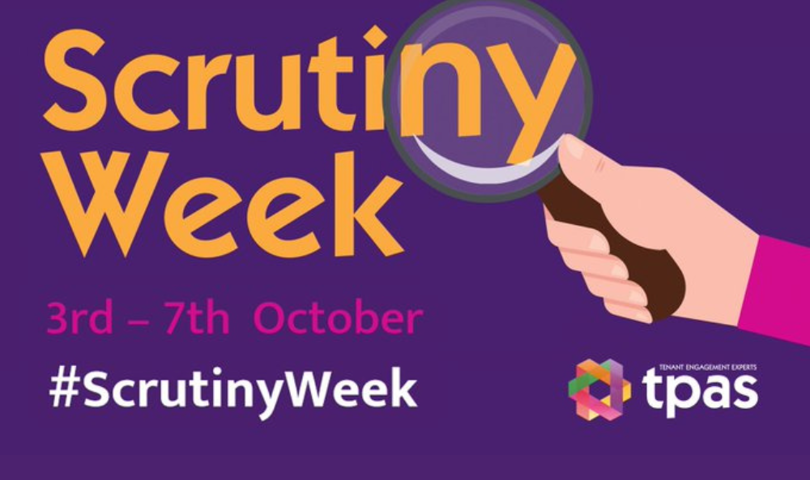 We're taking part in National Scrutiny Week which has been arranged by TPAS to raise awareness about tenant led scrutiny.
What is tenant led scrutiny?
Scrutiny means to observe or examine something. For us it means working with customers to look closely at the way we currently do things and then using their feedback to make sure we're constantly improving. Our dedicated Customer Scrutiny Team work alongside customers to do just that!
"Scrutiny is really important because it's the right thing to do. Without customer feedback we can't make effective changes. From a customer perspective, it means our customers feel valued and most of all, listened to. From a business perspective, it means we are delivering the right services in the right way."- Jess Woodley, Customer Scrutiny Manager
What can I expect from the week?
Over the next few days, we'll be raising awareness about the role of our Customer Scrutiny Team, telling you all about our customer involvement programme My Voice and sharing examples of how our involved customers are shaping the services we offer.
Keep an eye out for:
John's blog - one of our involved customers tells you why he decided to get involved
An overview of our recent fairness and respect project - and what it means for you
A day in the life of Steve (one of our Customer Scrutiny officers)
Updates about our ongoing energy efficiency work and how it will benefit customers now and in the future
Where do TPAS come in?
We're proud to be a member of TPAS, they're not only the organisers of the awareness week but leading experts on tenant engagement in England. Being a member of TPAS allows us to draw on their vast experience and work alongside other housing associations to find the best ways to hear to our customers voices.
How can TPAS support me?
If you're one of our customers, you can join the TPAS customer network and access loads of resources and events for free (individual membership would usually cost £50). Click here to find out more.
If you'd like to learn more about customer scrutiny or how you can get involved please contact us at customerscrutiny@midlandheart.org.uk.