Retirement Living Plus survey results
20/05/2022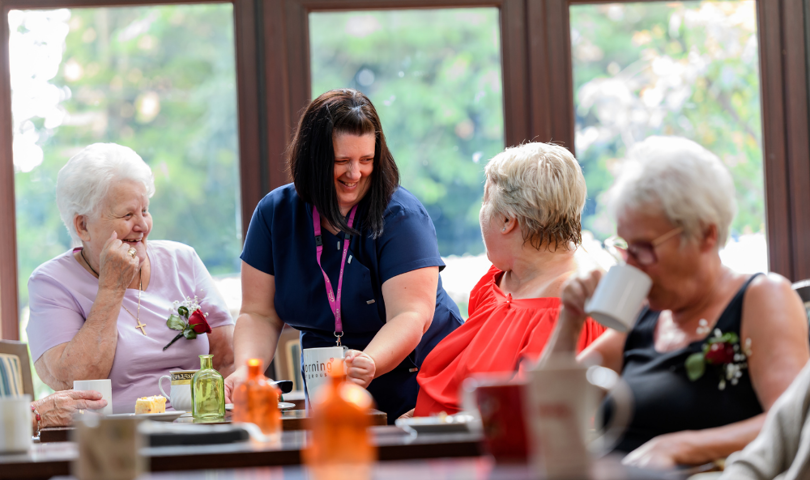 We'd like to thank everyone who took the time to complete the latest Retirement Living Plus satisfaction survey.
Our RL Plus schemes offer an enhanced service including catering and lifestyle activities, so it's important to check in with our residents to see how they feel about their homes and what they'd like us to focus on in the coming months.
355 residents from 23 schemes completed the survey, which means around 19% of all RL Plus customers chose to give us feedback. This is a brilliant response rate and it means we get a really accurate picture of what's going on across all our schemes.
We'd also like to congratulate Mr Jenkinson from James Beattie House, who was the winner of our survey prize draw!
The results:
On the whole residents were very positive about their experiences living with us.
89% think our colleagues are professional and responsive
87% feel their scheme is inclusive and welcoming
77% are pleased with our catering services
What our residents said:
"Cannot praise them enough. I have yet to see a miserable face amongst the staff. They are quick to react if there are any problems for us all " (Bushfield Court)
"Staff are kind and understanding and willing to help – this approach makes an enormous difference to the elderly and frail among us" (James Beattie House)
'Did not want to live here at first but am now so glad that I did. We all keep busy on our gardens, crafts and exercising. Groups get together for a natter and every day is filled with something we can do" (Bushfield Court)
"The best thing that has happened to me was to move into my lovely flat at Chatham Place, I am really happy here. Thank you Midland Heart, you and the staff at Chatham Place have made me very happy" (Chatham Place)
How can we improve?
We know we don't get it right all the time, and the survey helps us to understand what we can do to improve.
19% of customers are unhappy with the time taken to complete repairs.
11% of customers are dissatisfied with the external communal areas at their scheme.
95 customers said they'd like us to look into whether we could offer computer classes as part of our lifestyle offer.
We've made lots of improvements to our repairs process and our grounds maintenance in the past year, but we'll continue to work with customers to resolve local issues.
We've also been working hard to improve our digital services so it's really encouraging to know that our RL Plus customers are open to finding out more about technology. Computer classes are something that we can look at introducing in our schemes.
A home to be proud of
Overall, 84% of our customers said they're proud to call their scheme their home, and this is a result we're really proud of too. There's always more for us to do, but these results show that our Retirement customers are really grateful to our hard-working scheme staff for keeping them safe and making sure they enjoy this chapter of their lives.
*Please note that the statistics above do not include St Crispin Village, as we ran a slightly different survey at this scheme (in response to previous customer feedback). The results from St Crispin are available on request.