Celebrating Starts at Home day
02/09/2022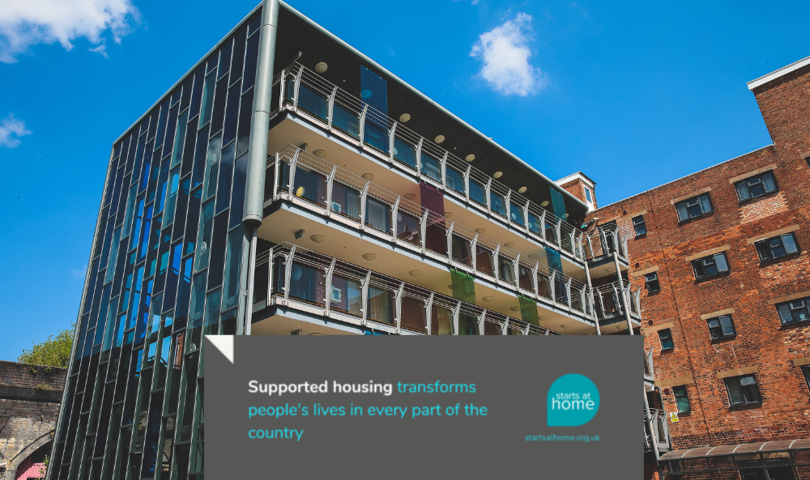 To celebrate Starts at Home day we caught up with Angela Peck, Senior Independent Living Officer to find out more about her role in supported living and helping our customers live independently.
Tell us a little bit about yourself
I started working in a hostel as a support worker and then worked as a specialist practitioner in mental health in Wolverhampton for 22 years. The skills I gained from these experiences allowed me to transition into my current role in supported living. In our services we help customers to gain the confidence or skills they need to move on and live in the community.
What does your day-to-day work look like?
I like to have an early start to set course on my day which usually involves meeting the facilities team, discussing repairs, speaking to customers about the support they need, and dealing with contractors. Sometimes there's a meeting or two about new flats we have to let.
My week continues just like this, from meetings with customers, linking up with other local services like GPs, supporting customers to find college courses and work experience to helping write CVs and find jobs, no two days are the same!
What's the best thing about your role?
Having the ability to empower my colleagues to make decisions about the right support for all our customers. I have an open-door policy and encourage my colleagues and customers to come to me whenever they need- this is a really rewarding part of the role.  
I also work with Liberty, our disability network, on delivering workshops with customers which allows me to highlight what it's like living and working with a disability from first-hand experience.
I'm very proud of our team knowing that we all work together to make a difference to our customers lives.
Making a difference
Supported living
Many of our colleagues like Angela work in our services supporting vulnerable adults and young people to live independently.
Meet Mr A
Mr A lost his job and fell on difficult times. He was offered a place at The Snow Hill where he was keen to gain new skills and possibly even continue his education.
While living at the scheme Mr A was supported to maximise his income and make sure he was on the correct rate for Universal Credit after he'd lost his job. He also worked through his independent living portfolio (gaining life skills to help him maintain a tenancy) and completed his functional skills in English and Maths level 1 and 2.
His hard work has really paid off and Mr A has been accepted onto a university course to do a BA (hons) health and social care course starting this September. He'll also be supported to apply for a property to rent locally.