Supporting a family in need
11/07/2022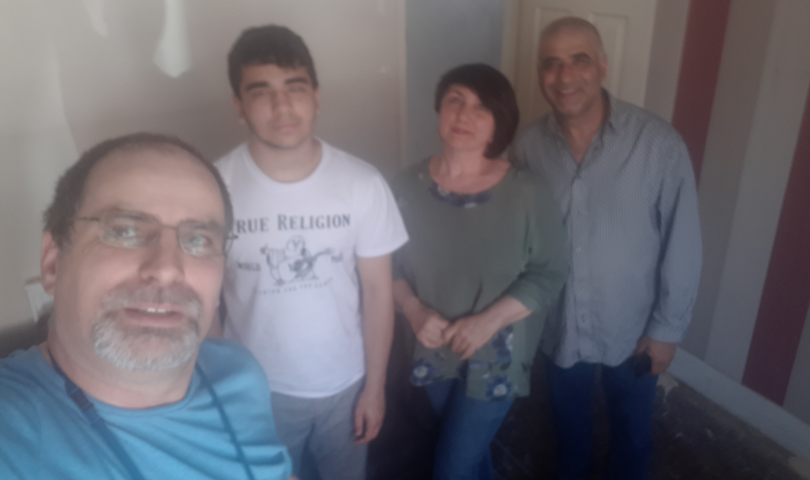 This is one of our Rent Payment Officers Neil with Akhmad and Oksana Akram and their younger son Timur, aged 15.
The Akram's had to leave their home in Kyiv, Ukraine, due to the ongoing war. Their oldest son is 24 years old and is fighting in the Ukrainian Army. He's in contact with the family but unable to disclose where he is.
Looking for a place to call home
The family came to the UK as refugees and initially stayed with a sponsor. Unfortunately, this didn't work out and they were housed in a hotel by Stoke-on-Trent Council where they were living for a couple of months.
The Akram's were keen to live in a home where they could be comfortable. They were classed as homeless, so Stoke-on-Trent City Council nominated them for a home with us as per the Prevention of Homelessness Act. 
They had very little in possessions as they had to flee their home quickly. All they had was what they were able to carry in a handful of bags and a suitcase.
Getting the keys
Neil recently completed their sign up at one of our homes in Burslem, Stoke-on-Trent. Sign-ups usually take around an hour as we'll take the time to tell customers how to set up their energy accounts, pay their council tax and update their Universal Credit journals. We'll also get them to sign the tenancy agreement, lettings assessment and of course hand over the keys to their new home.
We take great pride in making sure all of our customers receive a first-class service and feel ready to move into their home. However, Neil realised that he needed to spend more time than usual to make sure the family had everything they needed to live comfortably.
He arranged for a translator to attend the property to support with the process as they speak very little English and together, they helped them to set everything up.
Working together 
Neil was supported by our Lettings, Income, In-House Maintenance and Money Advice team's who came together to help the Akrams.
By working together, we made the Akrams feel valued as new customers, whilst helping them to feel less stressed and anxious about moving into their new home during such a distressing time.
You can find out about nominations and direct offers in our Allocations Policy.