Welcome to our new website!
18/01/2022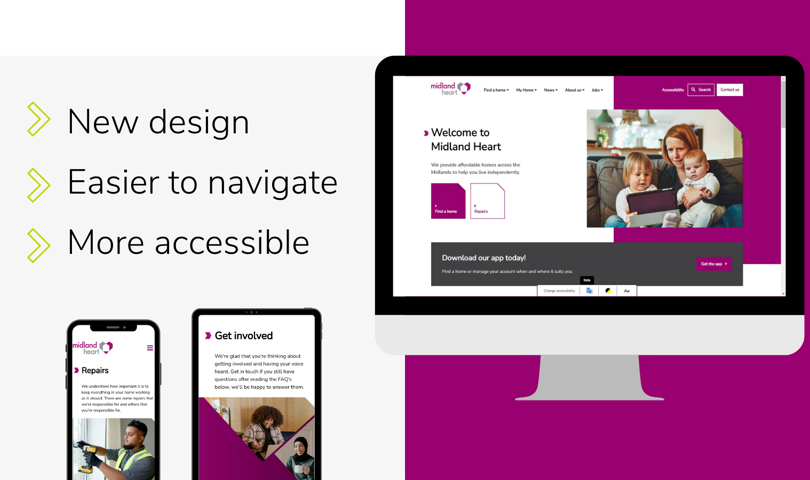 As an organisation we've been working hard to improve our digital services for both colleagues and customers and now we're really excited to launch our new website!
Last year we carried out a survey to find out what you thought about our digital services. We asked for your feedback about our website and app so we could find out what was working well and what could be better.
You told us that you're using our website, but perhaps not as often as you could, that information wasn't always presented clearly or that you couldn't use it easily on different devices.
So, what's changed?
The first thing you'll have noticed is that our new website has a fresh new look! We've looked at the pages you use the most, to help us design the new layout and make it easier to use.
The search function and filtering has also had a revamp making all our content much easier to find.
Some of our involved customers took part in a virtual treasure hunt to test the new website. They were able to find what they're looking for in just a few clicks.
More accessible
Most of our visitors use the site on a mobile device. So, we've made the new site more accessible. You'll be able to get the most out of it no matter what device you're using.
How can I give you my feedback?
We'd like as many customers as possible to be involved in shaping the services that we offer.
You can visit our My Voice for more information on how you can be a part of our Digital Transformation Programme and other projects that we have coming up.
Our Involved Customers get to choose what they participate in and how much time they spend helping us. We're sure that you can find a role that suits you.
If you'd like to give feedback on the website review please fill out the form below.