BHM: Cooking on a budget
19/10/2022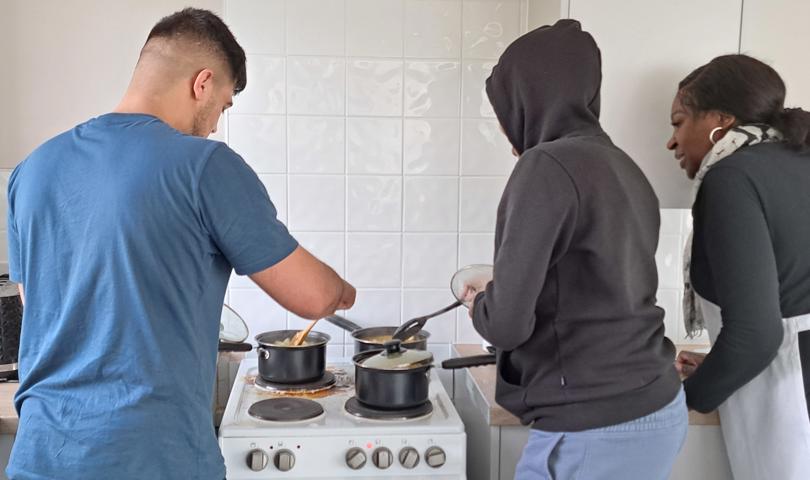 Residents at The Foyer in Birmingham, one of our Supported Living Schemes, took part in a Caribbean cookery class on Wednesday 19th October.
The 16- to 25-year-olds were invited to take part in the lesson as part of our Black History month celebrations.
Tasty tutorial
Chef Faith, who owns a local Caribbean takeaway Eagles based in Smethwick, hosted the session and gave simple step-by-step instructions on how to prepare, season and cook the meal.
Participants each cooked a pot of chicken soup made with fresh ingredients and authentic Caribbean spices. They we're able to put their own twist on the recipe and tailor the amount of spice to suit their personal taste.
Fantastic feedback

When they were asked how the session went, they all agreed that they had thoroughly enjoyed the session. Omat described the experience as memorable and said he would recommend it to others.  
"I took part to learn more about Black History month and because I wanted to cook food from a different cuisine. As well as cooking on a budget the key thing for me was learning how to cook something in winter which help keep me warm and full of energy."
Afrat said that he had taken note of all the ingredients so that he can recreate it in his own time.
Supporting our residents
A valuable part of our Supported Living programme is to give residents guidance and encourage them to develop the skills they need to live independently.
The recipe contained affordable and easily accessible ingredients which is particularly important as the cost of living continues to rise. The time in the kitchen also gave attendees a chance to ask culinary questions as well as seeking advice on how to cook a healthy and filling meal on a low income.

' I have come back to The Foyer after leading a similar session last year. It's so special sharing knowledge about my culture and key tips on how to stay warm on a budget. I chose to teach my chicken soup recipe as helps warm up the soul. I know cooking can be difficult if you're not used to it but practice makes perfect.
Cost of living support
If you're worried about money you can visit our cost of living page to see the full range of support that is available. If you're struggling to pay your rent or buy essentials, please get in touch with or Money Advice Team who can give you personalised advice and support.