Lord Lieutenant opens Jubilee Garden
06/05/2022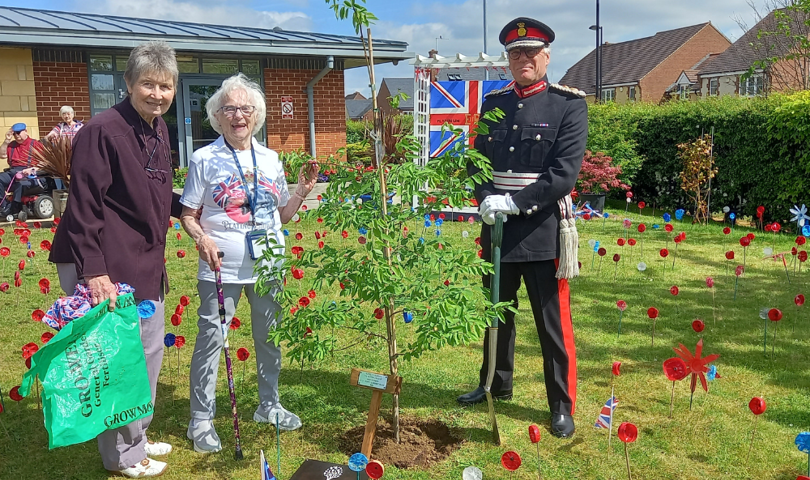 Her Majesty's Lord Lieutenant of West Midlands, James Saunders Watson officially opened our Jubilee Garden at St Crispin's Village yesterday.
Residents and staff were joined by pupils from St Luke's CE Primary school to witness the unvielling of the queens Platinum Jubilee plaque. They were also able to watch the Luitenant plant a tree as part of The Queen's Green Canopy campaign and were later treated to a special performance by St Crispin's Choir.
The residents have worked together to create a beautiful garden and a lovely pond for everyone to enjoy. The children planted poppies made from recycled bottles and a commemorative bench was specially made and donated so that the residents could sit and enjoy their new view.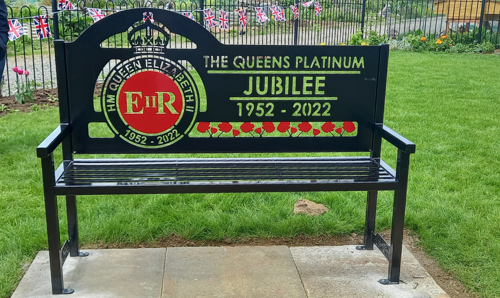 One resident Stan who has been heavily involved in the project said "Originally this land was just wasted area. It has now become a fully usable garden for residents which includes grass area for picnics and a pond, which they hope to have fish in at some point"
Lord Lieutenant James Saunders Watson said "It's a huge pleasure to be here to celebrate the Queen's Platinum Jubilee, the Wellbeing Garden. It's lovely to be able to celebrate this with the residents and staff after they've all pulled together to make today such a special day"
The Jubilee Garden will also act as a wellbeing garden. We understand the benefit of being outside amongst nature and the calming reflective atmosphere will allow residents to have quiet moments whenever they need them.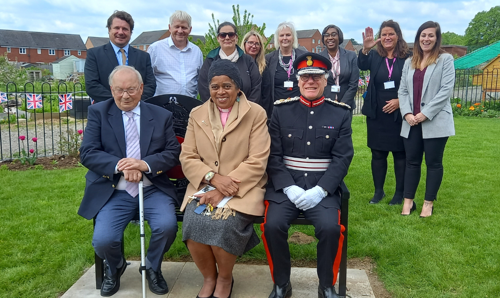 Anna Brown, Lifestyle Coach said "It was an honour to welcome the Lord Lieutenant and other dignitaries to the official opening of our wellbeing garden and Queen's Green Garden Canopy plaque and bench unveiling. Our projects at St Crispin have created great partnership working with community leaders and the local school St Luke's CE Primary school. I am so proud to work in the Lifestyle team here and help create lasting memories.  This will certainly be a project we will remember." 
As well as commemorating Her Majesty's Platinum Jubilee this garden will be there for future generations of St Crispin's and the community to enjoy. Residents will continue to tend to the garden and watch it flourish in years to come.